Thank you for considering a donation to the Friends of 40 Prado and supporting the homeless in San Luis Obispo County.
A donation here will go to support current ongoing operations at the 40 Prado Center.
Click "Building Fund" to donate to the cost of construction and furnishing of the new center at 40 Prado Road, or to fulfill your pledge to the building fund if you have made one. 
We are committed to honoring donor intent.  If you have a specific intention for the use of your gift, please let us know.
Donor Spotlight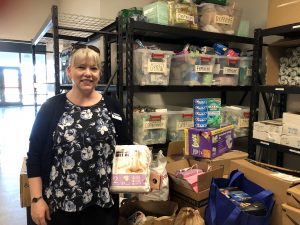 As part of the "Dignity Drive" for National Library Week,15 branches of the SLO County Library accepted hygiene donations for 40 Prado Homeless Services Center during the week of April 7-13.  An estimated 33 boxes and 12 shopping size bags that included diapers, toothpaste, shampoo, laundry detergent, and more were collected for the participants. 
Sharon Coronado (pictured), Coordinating Librarian, Adult Services stated, "We live in a fantastic community that can support those in need.  We are grateful for all the donations that came during National Library Week."